2020 Prix de l'Arc de Triomphe Betting Trends & Free Tips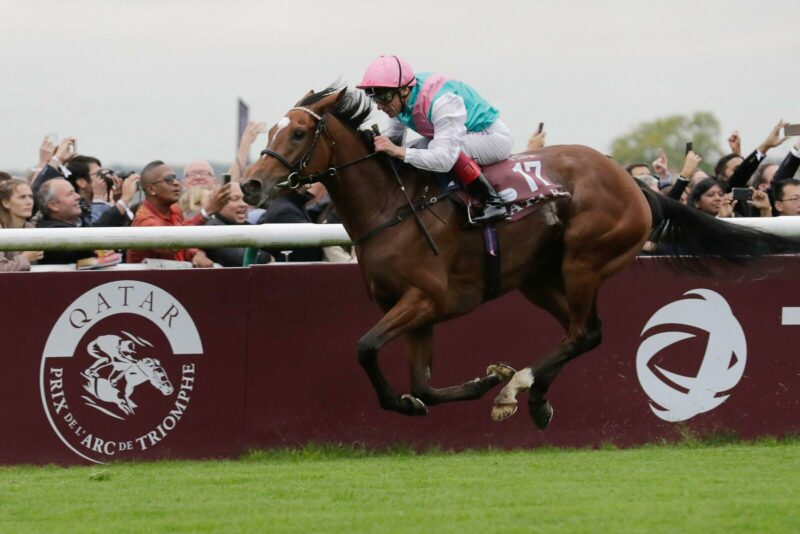 Run over 1m4f the Prix de l'Arc de Triomphe is one of Europe's most valuable Group One contests that is open to horses of either sex that are aged 3 or older and staged at Longchamp racecourse.
In recent years the contest has been dominated by the younger horses with 11 of the last 18 winners being aged 3 years-old, while 13 of the last 18 – came here off the back of a last time out victory. Last year we saw the John Gosden-trained Enable, who had won the race in 2017 and 2018, finish runner-up to the Andre Fabre runner – Waldgeist – which was trainer Andre Fabre's eighth success in the race.
Enable could be back for more in 2020 though as she will be looking to become the first horse to win the Prix de l'Arc de Triomphe three times.
As always, we are on-hand with all the key stats for the 2020 Prix de l'Arc de Triomphe – this year run on Sunday 4th October.
=====================================================
Recent Prix de l'Arc de Triomphe Winners
2019 – Waldgeist (131/10)
2018 – Enable (Evs)
2017 – Enable (10/11 fav)
2016 – Found (6/1)
2015 – Golden Horn (9/2)
2014 – Treve (11/1)
2013 – Treve (9/2)
2012 – Solemia (33/1)
2011 – Danedream (20/1)
2010 – Workforce (6/1)
2009 – Sea The Stars (4/6 fav)
2008 – Zarkava (13/8 fav)
2007 – Dylan Thomas (11/2)
2006 – Rail Link (4/7 fav)
2005 – Hurricane Run (11/4)
2004 – Bago (10/1)
2003 – Dalakhani (9/4)
2002 – Marienbard (158/10)
Prix de l'Arc de Triomphe Betting Trends
17/18 – Had won a Group 1 race before
16/18 – Had won over 1m4f before
14/18 – Had 4 or more runs that season
14/18 – Drawn in stall 8 or lower
13/18 – Priced 10/1 or shorter in the betting
13/18 – Drawn in stall 6 or lower
13/18 – Had won at least 5 times before
12/18 – Won last time out
12/18 – Had run at Longchamp before
11/18 – Had won at Longchamp previously
11/18 – Aged 3 years-old
10/18 – Placed favourites
9/18 – Won by a French-based yard
8/18 – Ran at Longchamp last time out
8/18 – Female winners
5/18 – Winning favourites
5/18 – Won by a UK-based yard
3/18 – Trained by Andre Fabre (won the race 8 times in all)
2/18 – Trained by Aidan O'Brien (2016, 2007)
3 of the last 11 Epsom Derby winners that season have won
The average winning SP in the last 18 years is 15/2
Trainer John Gosden has won 3 of the last 5 runnings
Since 1976 we've seen just 3 winners aged 5 or older
18 of the last 26 winners were aged 3 years-old
Jockey Olivier Peslier has won the race 4 times
Jockey Frankie Dettori has won the race 6 times
Twelve months ago the Andre Fabre-trained Waldgeist broke the heart of the popular mare – Enable – to land the 2019 renewal of the Prix de l'Arc de Triomphe. However, with the current Arc champ now retired at stud, this could pave the way for Enable to gain her record-breaking third Arc win, after taking the 2017 and 2018 renewals.
John Gosden's popular mare has stayed in training as a 6 year-old this season and after a romp in the King George VI and Queen Elizabeth Stakes at Ascot in July, has looked better than ever.
The softer ground last year was one of the blaming factors to her defeat, so come race day (Sunday 4th Oct) all eyes will again be on the underfoot conditions as Enable bids to become the most successful horse in Arc history and grab a third win.
However, in true 'Girl Power' fashion this season, we've another 'wonder-mare' that's risen up the ranks – step forward the Aidan O'Brien-trained Love, who has landed the 1,000 Guineas, Epsom and Yorkshire Oaks in scintillating fashion – this could hopefully set up a 'must see' clash between the two best middle-distance females on the planet!  
Of course, with eight Arc wins to his name, then anything trainer Andre Fabre runs also has to be respected – after all, he did spoil the party last year. Having said that, if getting to the start in one piece it would be a shock if Enable and Love aren't fighting this one out.
Cases can, of course, be made for them both, but the main factor to take into account is the 3 year-old age allowance that Love would get. She'd be getting a handy 7lbs off the two-time winner, Enable, and with 11 of the last 18 (61%) Arc winners also aged 3 years-old then this is a big advantage.
There are many other key trends to take into the race, so let's see how the main two in the market get on based on the main stats.  
Age – As already mentioned the 3 year-olds have by far the best recent record – winning 11 of the last 18 renewals – a huge plus for Love – and the weight allowance they receive is obviously a big reason for this. In contrast, we've only seen three winners aged 5 or older win the race since 1976, which is not great news for the 6 year-old, Enable. Yes, last year's winner – Waldgeist, was one of those at 5 years-old, but the stats suggest the younger legged horses hold the edge.      
Fitness – With 14 of the last 18 winners (78%) having had at least four runs that season, then it pays to look for horses that have been out a fair few times. At the time of writing, both Love and Enable have had just three outings, but this trend has to be taken with a pinch of salt with the racing lockdown and many trainers plotting different paths for their horses.
Market Guide – In recent years, the Arc has seen five winning favourites in the last 18 runnings (28%), which is not a bad strike-rate. In fact, 10 of the last 18 (56%) market leaders have also been placed, while 13 of the last 18 winners returned 10/1 or shorter in the betting.  
Class – With this being one of the top middle-distance Group One races on the racing calendar then having proven form at the highest level is a must. A massive 17 of the last 18 Arc winners had already won at Group One Level.
Trip – Similar to the last trend, it's no shock to see that 16 of the last 18 Arc winners had already won over this 1m4f tips in the past. With the race often run at a strong pace, then horses stepping up in trip for the first time have a whole new task to tackle, so having proven form over the distance is key.
Draw Advantage – This has been one of the main trends in recent years. Many would think that with the race being run over 1m4f, then the draw might not play a bit part – but that's not the case! A massive 14 of the last 18 Arc winners (78%) came from stalls 8 or lower, while 13 of the last 18 (72%) were drawn 6 or less. 12 months ago, this was further backed up with the winner Waldgeist coming from stall 3 and the third – Sottsass drawn 1 – while Enable was 'unable' to overcome the 9 draw.  We'll have to wait till a few days before the race to get the draw, but once we do this will most certainly impact the betting.
Track Form – Having tasted the Longchamp track in the past is another plus. We've seen 12 of the last 18 winners having raced at the course before – with 11 of those 12 had won at the track in the past. This would, of course, be fine for past winner – Enable – but the Aidan O'Brien, Love, would be running here for the first time.
Trainer/Jockey Stats – It's a race that's been dominated by the French-based Andre Fabre, with eight wins to his name, including last year, but three wins in the last five, then the John Gosden camp are also starting to make a name for themselves in this contest. It's slightly surprising that Aidan O'Brien has only two Arc wins to his name, but that could easily change this year. While in terms of jockeys a certain Frankie Dettori has six wins under his belt and is the most successful pilot in the race's history, with the French veteran, Olivier Peslier, not far back with four wins.
Overall, let's just hope both Love and the two-time winner – Enable – get to the race in early October. If they do it really will be a contest that decides who has the most 'Girl Power', but, for me, even though I feel it will be hard to give the weight away to Love, my heart is siding for the wonder mare – Enable – to firmly etch her name in the Arc history books by landing the three-timer………then, maybe she can have a happy retirement – we'll see!
================================================================

Tagged 2019 Prix de l'Arc de Triomphe Betting Trends & Free Tips, 2020 Prix de l'Arc de Triomphe Betting Trends & Free Tips