New Racing Ahead: On sale Friday!
A new issue of Racing Ahead is on its way! Here's what features in the latest edition, on-sale Friday…
ANDY NEWTON: Top trends for York's Ebor handicap
TWO-YEAR-OLDS: Ian Heitman finds a crop of exciting juveniles
IRISH RACING: Karl Hedley reviews the latest action across the sea
PADDOCK PICKS: Anrew Ayres reveals the latest additions to his notebook
FERGIE'S CHOICE: Paul Ferguson with his summer jumpers to follow
EDDIE WOOD: The master tactitian shows you more ways to find winners
BOOK REVIEW: Opinion on Betting in 21st Century
AMATEUR PUNTER: Ben Morgan cashes in on a 40-1 Epsom double
BIG RACE REVIEW: Brilliant O'Brien lands Oaks and Derby
FORM GUIDE: Leading trainers and jockeys in August since 2003
WALSH-GERAGHTY: The two great jump jockeys talk about retirement
NEWMARKET: Dave Youngman brings the latest news from HQ
YESTERDAY'S HERO: Graham Buddry remembers Henry Cecil's Indian Skimmer
SPEED FIGURES: Mike Francis with the latest show on the stopwatch
INTERVIEW: Martin Jenkins talks to trainer John Berry
OUT IN STICKS: Jeremy Grayson is delighted to see the return of jumps racing
All this and lots more – plenty of bang for your buck!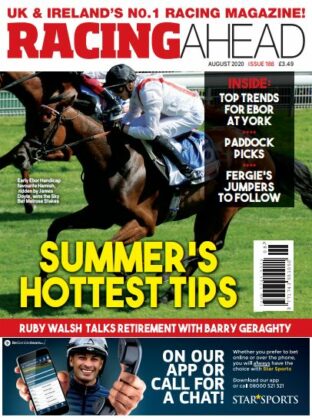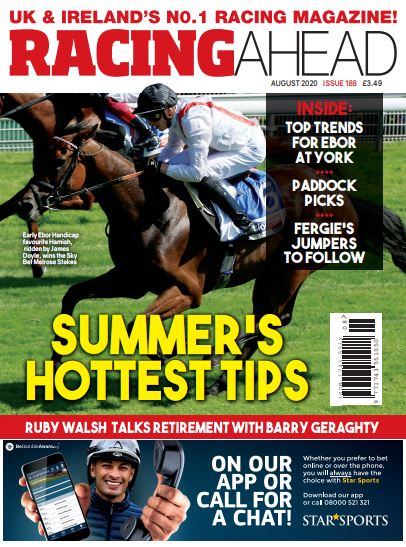 Support Racing Ahead by taking out a regular subscription here.